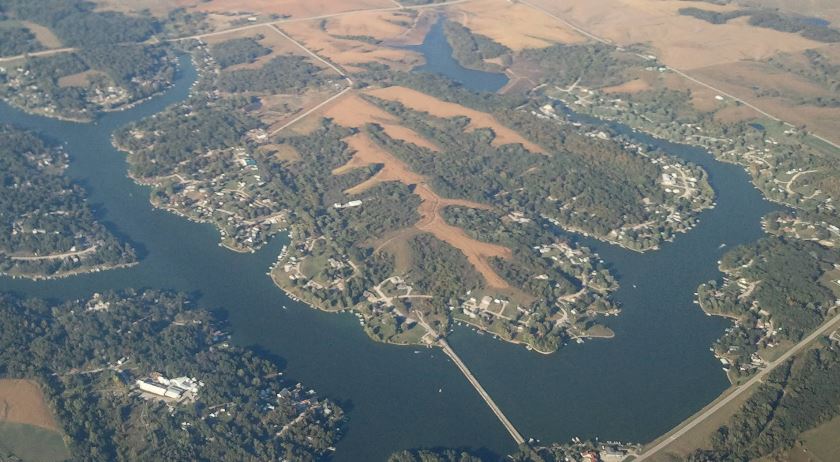 Below are the rules for Lake Ponderosa as supplied by Ponderosa Utilities, Inc.
Ponderosa Utilities, Inc. (641) 623-3009 Spring 2015
386 Center Point Dr, Montezuma, IA 50171
Ponderosa Utilities, Inc. has established the following rules for the safety of all property owners and their guests. Common Courtesy on the water makes it more enjoyable for all.Lake Ponderosa lot owners are liable for themselves, their family members, and their guests.
Only property owners, their children and/or their grandchildren are allowed to have watercraft, motorcycles, ATV's (four wheelers) of any type on Lake Ponderosa.
All watercraft, motorcycles, golf carts, ATV's (four wheelers), etc. must have current Lake Ponderosa stickers.
Stickers will be issued at the office.A copy of the State of Iowa registration, title, or bill of sale of owner's watercraft, motorcycle, ATV, golf cart must be registered at the office.
A fee will be charged for the current stickers.
According to your abstract, which contains covenants and restrictions on use of Lake Ponderosa property, only one water skiing boat per lot is allowed on the lake at any one time.This restriction includes jet skis, wave runners, or other types of water vehicles.
Please Note Hours:
Water Ski hours and Jet Ski/Wave Runner hours will be from sunrise to sunset Monday through Thursday.
Water Ski hours will be from 9:00 A.M. to 8:00 P.M. Friday through Sunday and holidays.
Jet Skis, Wave Runners, and Tubers hours will be from 11:00 A.M. through 7:00 P.M. Friday through Sunday and holidays.
These hours will be in effect from the Friday preceding Memorial Day through the Labor Day holiday.Wave runners may be on the lake during skiing hours, only when they are pulling a skier.These hours will allow time for water skiers to ski before personal water craft are on the water and will allow those who enjoy fishing and riding on pontoons time to enjoy the water also.
The definition of Jet Ski is a one-person motor propelled stand up water vessel.A Wave Runner is a motor powered water vessel in which one or more people sit upon.Tubes are defined as any inflatable object that is towed.The definition of skier is a person being towed by a hand held rope, not being on anything that is inflated.
All Watercraft operators and passengers must obey boating laws of the State of Iowa as well as the restrictions as to hours set forth in this agreement.
Reckless driving and operating motorized water vessels while under the influence of alcohol or controlled substances are criminal offenses that can be enforced in court.The Lake Patrol Officer who observes an operator who he has reasonable grounds to believe to be intoxicated shall request the operator to leave the lake, and if they do not, he will contact the Sheriff.In cases of reckless driving, which is where a person's conduct is such that a reasonable person would believe it endangers life or property (mere speed is not enough) will receive an oral warning.Second offense, they will receive a written warning, and on the third occurrence the Ahrens family shall be requested to file preliminary information to the County Attorney.
No one under 12 years of age is allowed to operate a water craft propelled by a motor of more than six horsepower unless accompanied by an adult (someone who is at least 18 years of age).
Operators must pursue a course with the shore on their right.They are not to cut behind or in front of other watercraft, or jump the wake of another watercraft within 100 ft. of that watercraft, or whatever that watercraft may be towing.
Operator plus observer is needed when pulling a skier/tuber, etc.
Flotation devices, lights and fire extinguishers, horns or whistles are required for all watercraft.
Non-powered craft has the right of way at all times.
No wake policy will be in effect in inlet areas.
No watercraft shall be operated after dark without lights.
Dredging will be done in the summer of 2015 and billing for such has been included in the water, road, and aquatic control billings for the year 2014/2015.Dredging will continue as required.
No stripped, partially wrecked or junked motor vehicles, trailer, boat, refrigerator, stove, other appliance, or any other salvage item of any kind, or parts thereof, shall be permitted to be parked or kept on any road, and/or residential area or lot, or access area.The Poweshiek County nuisance vehicle ordinance is in effect for Lake Ponderosa.
The Aquatic Control portion of your fall billing will be used yearly for stocking fish.
Lake Ponderosa is a private lake, but most laws of the State of Iowa apply to the lake.The Poweshiek County Sheriff's department does patrol the lake area and will respond to all calls within its jurisdiction.
A noise ordinance will be in effect in the Lake Ponderosa Development area.This includes the Lake Area and roads.Every internal combustion engine used on any motorboat must be effectively muffled to a noise level maximum of 86 decibels as measured at a distance of 50 feet or more. ATV's (four wheelers) and motorcycles shall meet legal requirements as to noise and, no modified ATV's (four wheelers) or motorcycles shall be on the lake area.Please extend the courtesy to your neighbors in regards to any late night fireworks, parties, or loud music.If a problem does occur and you are unable to talk to those persons involved, it is best to contact the Sheriff's department.
The following items have been suggested in addition to the rules above:
Contractors and/or lot owners should install silt fencing when performing any land disturbing activities such as building, landscaping, clearing, grading, filling, excavating, riprap work, driveway installations, terracing and septic work.
Contractors and/or lot owners should remove any soil or debris tracked or deposited on the roads during construction or building of any kind.
Lakefront lots should be properly protected by riprap of some sort.
Parents shall make all efforts to see that children are old enough to operate land craft that includes ATV's, golf carts, and utility vehicles of any kind.Please refer to the State of Iowa laws for age requirements.
Members of the John L. Ahrens Family